Shyguy Amuse!
Shyguy is getting into the Mario Super Fun Happy Hour act with 3 fun games of his own! They may not be as Super Fun Happy as Mario's games, but they are still fun! Shyguy brings to us the joy of connect the dots, the excitement of colouring book crazynes, and the Sesamie Street of odd man out. Have fun, kiddies!
Connect the dots!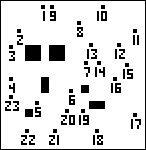 Colour Shyguy in... don't go over the lines!


Which of these Shyguys is different from the rest?